The current build im using is the heavy arms build by Dontain.
This build focuses on high armor and HP with a decent amount of damage.
You'll end up with approximately 30 000 HP and 3,2k armor and with the nourishments and might bonuses you'll reach a little over 4k attack. And since this build is running with 3 shouts you'll also have a decent amount of support for the rest of the group.
For the build use full Soldier's Gear (Power, Toughness, Vitality) with 6x Superior rune of the Soldier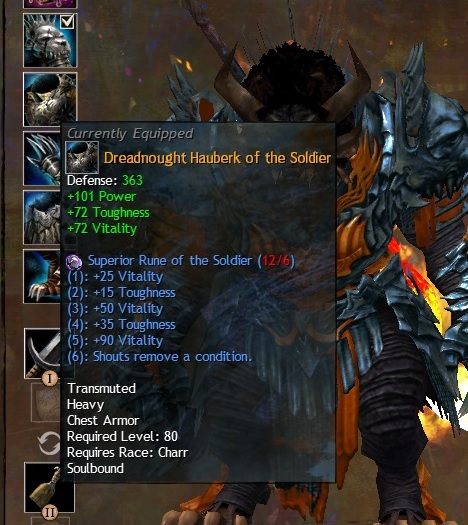 And a Soldier's greatsword with Superior Sigil of Bloodlust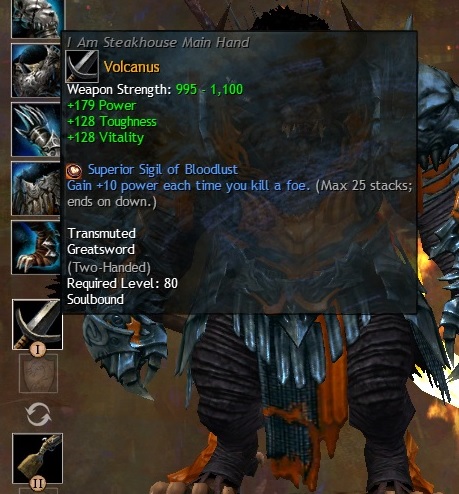 The traits is the following:
Strength Traits:
V - Increased damage based on how much adrenaline you have build.
Since the burst skill with greatswords is pretty much useless you will be having alot of adrenaline that we wont have any use of anyway.
IX - Greatsword and spear damage is increased by 10%. Do i need to elaborate?
Defence Traits:
I - Gain adrenaline when hit
This is good for building up adrenaline fast in engaging a fight or after being downed
II - Gain 200 toughness when crippled, chilled, stunned or immobalized
MORE ARMOR!
Tactics Traits:
VI - Increases damage for every boon on you
Just more damage!
VIII - Shouts recharges 20% faster
XII - Shouts Heal
Your shouts will heal both you and your allies for about 1 400 which isnt alot for your
30 000 hp but it still helps... ALOT
Here's the utility skill set:
Healing Surge - Since your adrenaline will almost allways be full it has a nice addition to you healing
"For Great Justice" - Might and Fury for your whole team, Nuff' said
"On My Mark" - Places 10 stacks of Vulnerability on your foe. Good for bosses. Can be switched to "Fear Me" in PvP and WvW for better effect.
"Shake It Off" - Removes 2 conditions instead of 1 on each team member due to the 6th bonus of the Soldier Rune.
And remember, All your shouts heal for about 1400(at lv80) and remove 1 condition on both you and your allies.
[ELITE SKILL]
Signet of Rage/Battle Standard
I recommend using Battle Standard as long as your in a team. it has a great deal of might/fury/swiftness bonus and revives all downed party members in the area upon placing
Signet of Rage can be used when running solo(which isnt that often) or in WvW where the banner wont help you that much
I also use full set of ascended trinkets with Soldier's stats
If you dont have the ascended trinkets you can use the soldier trinkets from the Grenth temple and use a Crest of the soldier as upgrade
like this:
Here's some screenshots of my stats fooling around in the Cursed Shore
Original Stats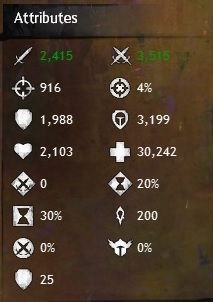 With maxed stacks of the Superior Sigil Of Bloodlust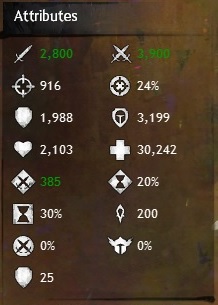 Maxed Bloolust + "For Great Justice"(3 might) and Signet of Rage(5 might)
Maxed Bloolust + "For Great Justice"(3 might) and Signet of Rage(5 might) + Hardened Sharpening Stone (Nourishment (30m): Gain power equal to 5% of your toughness
Gain power equal to 3% of your vitality
+10 Experience from kills)
All of the credits goes to Dontain that made this build!
Last edited by Steakhouse on April 20th 2013, 10:56; edited 5 times in total

Steakhouse




Posts

: 29


Join date

: 2013-04-19


Age

: 25


Location

: Sweden



nice build and love the Greatsword, btw how is this build in WvW?
Its diffrent from any other warriors in WvW, its no where close to the burst from a zerker warrior on the other hand you will survive almost anything your up against. taking over camps solo, can easily handle a 2 v 1 situation. Though im more of a PvE'r thats why im using Sigil of Bloodlust. Someone thats more in to WvW might wanna consider using Sigil of Force or something else due to the loss of stacks if killed.

Steakhouse




Posts

: 29


Join date

: 2013-04-19


Age

: 25


Location

: Sweden



Maybe ill have this a go on my warrior, fully zerk gear now ;p


Similar topics
---
Permissions in this forum:
You
cannot
reply to topics in this forum